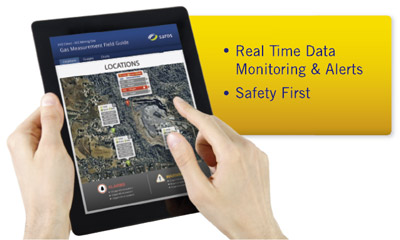 Saros has developed a cost effective remote Fume Monitoring Solution (FMS) for the Australian market. It is highly configurable to provide flexibility and scalability ensuring your needs are met now and in the future.
Through a combination of remote instrumentation and smart software,  the fume monitoring system will deliver:
Real time monitoring and alerts.
Increase site safety by reducing the impact of fume events.
Address existing and future regulatory data capture and reporting requirements.
A preventative and safer solution than 'on body' gas detectors.
A flexible system that can be expanded, scaled and re-located as needed.
Easily deployed and integrated across multiple mining sites.
Smart software that provides 'mobile' data reporting and alerts,  as well as preventative modelling.
A complete solution for reducing fume events through modelling:  correlation of blast design, location, product type, weather, ground conditions and associated fume events.
The FMS is easy to deploy with no onsite IT infrastructure requirements. It is designed for harsh environments and also captures weather station and GPS data.
The system comprises of a number of world's best practice components and is supported by qualified technical and environmental staff 24/7.
Technical Specifications
Simple one button operation, no training required.
Stainless steel portable mounting design for long life in harsh environments.
Airmet Gas Detectors : The station will measure the following gases – note that sensors can be exchanged for other gases in the future (up to 8):

Nitric Oxide (NO) range 0-100 PPM;
Nitric Dioxide (NO2) range 0-20 PPM;
Sulphur Dioxide (SO2) range 0-20 PPM; and
Carbon Monoxide (CO) range 0-200 PPM.

Weather station designed for hash and rugged environments. Sensor electronics are fully encapsulated in marine grade epoxy for complete environmental protection and a long operating life. Weather station will measure:

Wind direction;
Wind speed;
Temperature; and
Barometric pressure.

NextG industrial modem connects to Telstra NextG private wide area network (SIM card - is included).
Battery: AGM Sealed Lead Acid Batteries for long term maintenance free operation.
Alarms: Local alarms as well as the provision for UHF, VHF alarms, emails and SMS alerts.
Connection to Blasthub.com to combine fume monitoring results with blasting details and show historical/trend information for user definable areas.  Data is streamed live to local tablets or desktop web based applications.
No IT installation or infrastructure required by client.
System continuity - offsite backup, fully monitored climate controlled data room with redundant data and power for 24/7 operation.
Monitoring results are backed up locally as well as transmitted to a server via a range of communication standards (UHF, VHF, wireless, GPRS, 3G, satellite).
Additions include integration  with other sensors and  camera surveillance.